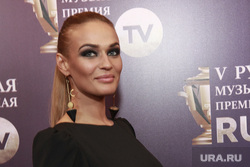 Alain Vodonaeva believes that state support should not be an incentive for kids birthday
TV presenter and former participant of the project «Dom-2» Alain Vodonaeva explained his words about the cattle, which give birth for the money. She believes that not to believe sensational media headlines. Treatment it published in his new youtube channel.
«I'm not going to give up their words, I just want to encourage all those who have hit the headlines and TV spots to read my words in the original. I'm sure nothing extreme, you will not find» — said Vodonaeva. She added that financial support from the state should be a pleasant bonus, not the main incentive for having children.
Lawyer Sergei Zhorin announced «URA.RU» that eks-the participant of the project «Dom-2» can be brought to criminal responsibility for insulting the Russians. State Duma speaker Vyacheslav Volodin called the presenter shameless and offered to punish her by law, by appointing a fine of 100 million rubles, reports channel 360. The fact that Vodonaeva criticized the proposal of the President of Russia Vladimir Putin to increase the maternity capital and to issue it at birth first child, According to her, she fears that such action will lead to that «desperate poverty of the Russians, and the cattle will give birth for the money»