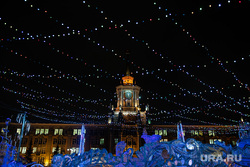 Long January holidays appeared in Russia 15 years ago
More than half of Russians have a positive attitude to the introduction of long new year holidays, which appeared in the country 15 years ago. A third of the citizens this opinion is not shared. This is evidenced by the results of a survey conducted by VTSIOM.
«Every second Russian (51%) believes that the introduction of the long January holidays — a good solution» — leads RNS to the survey. A third of respondents would like to cancel long holidays. Another 3% of respondents reacted positively to the holidays, but would prefer to move them in may. The excess number of January days is considered 4% of respondents.
Long new year holidays, introduced in Russia in 2005. Before this, the Russians additionally had a rest only 1, 2 and 7 January. Then the innovation is appreciated 36% of respondents, while 27% would like to abandon a long vacation. Would be willing to move a long vacation from January to may 15 years ago 27% of respondents.
Earlier for reducing the Christmas holidays was the former chief sanitary doctor and the Deputy of the state Duma Gennady Onishchenko. In his opinion, at this time the Russians engaged in «vigil in front of the TV», and idleness gives rise to gluttony and alcohol abuse.